The "We Are Never Too Old For Ariel Blanket" is a product designed for fans of the Disney movie "The Little Mermaid." The blanket features a colorful and vibrant design that depicts the beloved character Ariel, as well as other elements from the movie such as the underwater world and sea creatures.
This product is perfect for anyone who loves the classic Disney movie and wants to bring a touch of magic to their home. It is also an excellent gift for fans of all ages, including birthdays, holidays, or any special occasion. The "We Are Never Too Old For Ariel Blanket" is a fun and playful addition to any Disney lover's collection.
So if you're looking for a high-quality, comfortable, and delightfully whimsical blanket that will keep you warm and bring a smile to your face every time you use it, look no further than "We Are Never Too Old For Ariel". Order yours today at Nazix Store and start enjoying the magic and comfort of this one-of-a-kind blanket!
We Are Never Too Old For Ariel Blanket Features:
100% Polyester
This extremely strong and durable synthetic fabric retains its shape and dries quickly
Double-needle topstitch on all seams
The product is sewn around the edges with double stitching, making it long-lasting and durable
Sizes: 30×40″, 50×60″, 60×80″.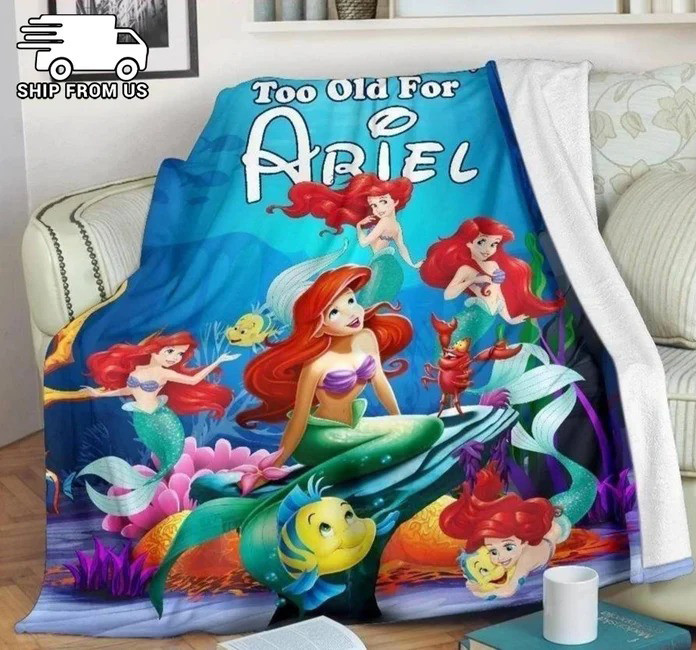 We Are Never Too Old For Ariel Blanket Care Instruction
Taking proper care of your clothes is essential for maintaining their quality and longevity. However, it can be confusing to decipher the care instructions provided on the label. Here are some tips to help you properly care for your clothes:
Firstly, avoid dry cleaning as it can damage the fabric over time. Also, do not iron the garment as it may cause discoloration or even burn the material. Instead, opt for line drying, which is a gentle way to dry your clothes without exposing them to high heat.
In addition, avoid using bleach as it can be harsh on fabrics and cause them to lose their color. If you need to wash your clothes, opt for machine washing on a cold cycle with a maximum temperature of 30°C or 90°F. However, hand washing is the best option if you want to extend the life and quality of your garment.

SIZE GUIDE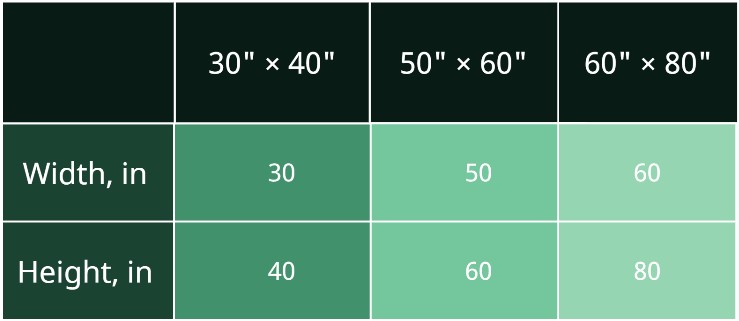 How To Order We Are Never Too Old For Ariel Blanket?
Step 1: If you're ready to make a purchase, simply click on the "Add to Cart" button and your items will be temporarily saved for you. You can continue browsing and add more items to your cart before checking out.
Step 2: When you're all set and ready to complete your order, just click on the "Check out" button and fill in your billing information, including your first and last name, full address, and phone number. Rest assured that your payment is secure when using your credit or debit card through STRIPE.
Step 3: After your payment has been processed, keep an eye out for your tracking code. Once it's updated, you'll know exactly when to expect your package to arrive at your doorstep.
If you have any questions or concerns, please don't hesitate to reach out to us at support@nazixstore.com. We're always here to help!
We take pride in our products and strive to provide you with a satisfying shopping experience. Thank you for choosing us as your go-to destination for fashion that makes you feel good.
Tracking & Shipping Time
We want to let you know that this product is a "Print on Demand" item. This means that we'll only start printing your order after it's been successfully placed.
We're working hard to get your Disney blanket printed and ready for shipping as soon as possible. Typically, we'll update your tracking code within 3 to 5 business days from the day you place your order.
Once your Disney blanket is printed and ready to go, we'll fulfill your order and get it ready for delivery. Please keep in mind that handling time can vary depending on your address.
If you place your order today, you can expect to receive your comfy "We Are Never Too Old For Ariel Blanket" within the next 7-10 days. We appreciate your patience and understanding as we work to make sure you receive the best product possible.
If you have any questions or concerns, please don't hesitate to reach out to us. We're always here to help and make your Disney blanket dreams come true!
Read More